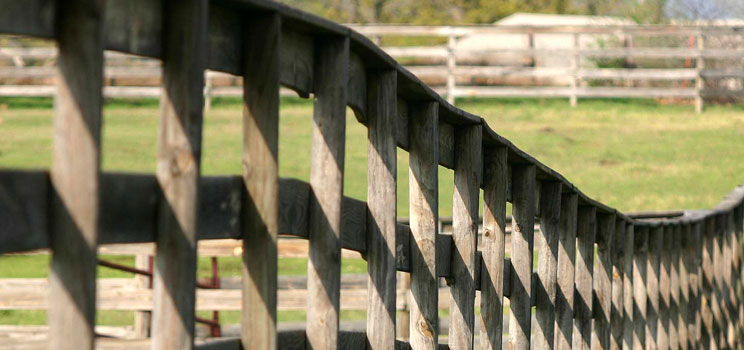 Winsdown Farms is dedicated to the breeding and development of a unique blend of a competitive show horse that has the quality for the top training barns, yet with the personality and trainability to be kept at home and trained by the Amateur Owner.
Winsdown Farms is first and foremost a breeding farm. Since 1993 Winsdown Farms has bred and offered at stud five nationally ranked Stallions. WCC and CH Sire #1 Futurity Sire Winsdown Hi Octane, WC and CH sire # 2 Futurity Winsdown Celebration, # 1 Futurity sire Winsdown Black Gold , RWC sire and # 1 Futurity sire Winsdown Westinghouse and # 1 Futurity Sire Winsdown Highlander who is currently standing along with Junior Sire Winsdown Xanadu.
Our goal is that the foals born on the farm are given every opportunity to succeed as a totally user friendly athletic well adjusted show and pleasure horse, that is a joy for owners and Trainers aike.
Winsdown Farms has a unique education program for it's foals. They are educated to a level far beyond their years. The program is geared to reducing dangerous fright-flight; major emphasis is placed on manners and true understanding of the task being asked. Louise Gilliland has taken years of experience to combine the methods of traditional show horse training, with methods used by great horseman such as John Lyons, Richard Shrake, and Pat Parelli all combined into a very unique system to produce the user friendly show horse that can be maintained at home by it's owner/trainer, and still be competitive under a training barns direction at the country's top shows. We produce a wide selection of colts for all divisions. We now market all our foals as weanlings or yearlings. They are prepared to be ready to go straight to work when they are old enough.
We no longer train outside horses, but we usually have wonderful young horses avaliable that are a product of this unique program for sale.
Retirement horses are an important part of our horse family. We have provided long term retirement to such wonderful horses as WCC CH Callaway's Head Over Heels, Dinero, CH Alvin's Mr. America, RWC CH Fashion's Spring Moon, WC CH Bent Tree's Stetson and S&B Working Western Reserve National Champion Clear Choice. Currenty WCC CH Hollywood Agent is living the life of luxury here at Winsdown.
Currently Winsdown Farms stand # 1 Futurity Sire Winsdown Highlander and Winsdown Xanadu.
The History of Winsdown Farms
The name Winsdown first came into existence in 1967 (the same year that my son, James Vantrease, was born) with the purchase of the English Import Pembroke Welsh Corgi, CH Winsdelft Tilda Of Bealclose. The name Winsdelft was so liked and the Corgi was so well liked (this was out first AKC Champion) that the name Winsdown was made up from Winsdelft and has been in existence ever since and has now been connected with vast numbers of Champions, both Cardigan Welsh Corgis and Saddlbred Horses.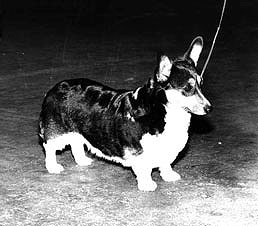 Champion Winsdelft Tilda Of Bealclose
The Winsdown name was known in the late 60's through the 1970's as a top name in Cardigan and Pembroke Welsh Corgis. Winsdown owned and promoted the great sire Winsdown Brymore Carbon Blue (Sire of 32 Champions from only 18 litters), who for years even after his death was tied for the Number 1 all time top producing Cardigan Welsh Corgi, siring several sons who also went on to also be major producers. The Winsdown name has been connected with over 70 AKC Champions and several Group and BIS winners. The Winsdown name can still be found today in extended pedigrees on many of today's winning Cardigan and Pembroke Welsh Corgis. Winsdown was the first American kennel to export a Cardigan Welsh Corgi to England that went on to become an English Champion. This son of Winsdown Brymore Carbon Blue went on to produce many champions in England, the Netherlands, Ireland, NSW, and other countries around the world. The name Winsdown can be found World Wide in the best bred Corgis.
Winsdown Brymore Carbon Blue
The early 80's brought the entry of the Winsdown name into some of the best bred Show Guinea Pigs in the country (the American and Teddy breeds), producing far too many champions around the country to count. Currently some lines can still be traced to the Winsdown influence.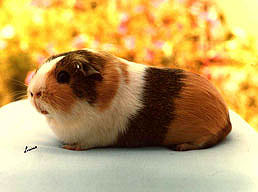 Champions Broken Color American Guinea Pig
With Saddlebred experience going all the way back to 1961 at Bill Becker's Sandy Knoll Stables and with guidance not only from Bill Becker but the wonderful horsemen Pat Perelli, John Lyons, and Richard Shrake; Winsdown Saddlebred Farms came into operation near San Diego, California in 1987 with the purchase of the darling gray mare, Jammin' The Blues, who was thought to be a 3/4 sister to the much admired WC & WC producer Phi Slama Jama. Years later it was found she was only a 1/4 sister on the dam's side.
Fate is a funny thing! Pride Of Ridgefield had been loaned from Chuck Bartush (his breeder and lifetime owner) to Jim Bray (his long time friend) to breed to some of the Bray mares. When Jim Bray passed away, Pride Of Ridgefield was to have been returned to Chuck Bartush. Instead he ended up on a truck to Kentucky with the rest of the Jim Bray horses to be sold at the Jim B. Robertson sale in the Fall of 1989.
That is the first time we saw Pride Of Ridgefield and were very taken with him. We checked his breeding records and found that no foals were registered since 1982. We thought he could no longer produce and besides we weren't in the horse breeding business. We were just buying, selling, and training a few. The following January, the blood typing results gave credit where credit was due and pronounced a Pride Of Ridgefield son, CH The Karankawa Chief, as the sire of WC Phi Slama Jama.
Pride Of Ridgefield once again went to a public sale, this time in the fall of 1990 at Tattersalls. This is where he was obtained by Winsdown. In the ownership of Winsdown Farms, he went on to produce 57 foals (born from 1992 through 1997) and became the Number Two Futurity Sire of 1996. He died at Winsdown Farms in January of 1997 of heart failure at the age of 28.
From the foal crop of 1992 came WCC and CH sire Winsdown Hi Octane who was the Number One Futurity Sire 1998-2002 & 2004-2007 on Saddle and Bridle's Futurity Sire Rating. From the 1994 crop came Winsdown Black Gold who is the Number One Futurity Sire of 2003 on Saddle and Bridle's Futurity Sire Rating and in 2002 on National Horseman's Futurity Sire Rating. From the 1996 crop came CH Winsdown Sweet Oil our first Saddlebred Record Champion and CH Winsdown Cosmos who was granted his title in 2016. In 1997 we marketed the WCC and CH sire Winsdown Hi Octane's daughter CH Emily Grey. In 1998 we produced WC and CH sire Winsdown Celebration. In 1999 CH Ghost of Gypsy and CH Magnolia Morning were born both were sired by WCC and CH sire Winsdown Hi Octane. The 2003 foal crop saw the arrivial of the Number One Futurity Sire 2008-2011 on Saddle and Bridle's Futurity Sire Rating RWC sire Winsdown Westinghouse. WCC CH Jessie Cole (AKA Winsdown Jack Malone) was born in 2004. Also born in 2004 was WC CH Hi On Heir sired by WC and CH sire Winsdown Celebration. From the 2005 crop came WCC CH Winsdown Edgecliff and CH Winsdown Code Talker. and RWC Winsdown Lilac Lane who was born in 2009
Winsdown Farms continues to breed record winning foals from the Pride Of Ridgefield sons and daughters. Current Stallions # 1 Futurity Sire Winsdown Highlander and Junior Sire Winsdown Xanadu both trace Pride Of Ridgefield. Highlander through the broodmare sire of his second dam and Xanadu through the tail male line. The future is bright for many more champion and record breaking horses produced always with the goal of sound of mind, sound of body, and competitive at the best Saddlebred Shows in the Country. Updated 3/23/16